HAND CODED WEB DESIGN  of SAN DIEGO
HAND CRAFTED WEBSITES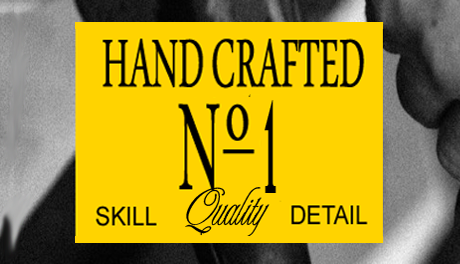 HAND CODING VS. WYSIWYG'S
WYSIWYG's are software applications, and include such contemporary products as Adobe's Dreamweaver and Microsoft's Expression Web and Sharepoint Designer, as well as the discontinued Microsoft FrontPage and Adobe GoLive. These products are termed WYSIWYG in that their user-interface allows a user to directly manipulate the layout of a web document without having to know HTML or other web development coding languages.
The WYSIWYG applications are relatively easy to use and allow individuals to create attractive web pages in a short period of time. WYSIWYG interfaces are suitable for the creation of personal web pages, but there are many advantages to hand coding when designing professional websites. These advantages include the following points, each of which will be briefly addressed below:
HIGH PERFORMANCE WEBSITES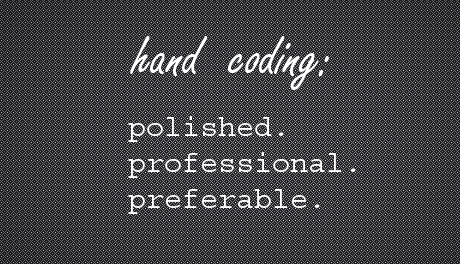 COST SAVINGS ON WEBSITE MAINTENANCE & DEVELOPMENT
The separation of structural and stylistic site elements allows for easier and quicker site maintenance as well. What used to be a time-consuming change (e.g. a change in font type or size) can often be completed in a manner of minutes via a quick update of the site's style sheet.
With a hand coded site, it is no longer necessary to change each individual page; thus, the site update process is greatly streamlined.
EMPHASIS ON QUALITY OVER QUANTITY
With websites, what you see is not always what you get. Your web pages not only need to look good, they also need to load quickly, rank well in search engines, and be consistent across the various web browsers.
Hand coding aids with all of these goals and produces a professional-looking and effective website. San Diego Web Studio has many years of website hand coding experience and will produce a site which both looks great and functions effectively for your business needs.
AN ELITE FORM OF WEB DESIGN
When stating the many advantages of our boutique web service offerings, San Diego Web Studio often highlights the fact that we code all of our websites by hand.
In fact, we proudly include a "hand coded" emblem on our business cards to emphasize one of the unique characteristics of our firm. But you may find yourself wondering, "What is the big deal about hand coding? Why is it important that my website be hand coded?" You may even wonder what it even means to hand code a website.
A definition may be helpful to begin this discussion. In short, hand coding a website means that one does not use the "WYSIWYG" (what you see is what you get) features that are included in many web design applications that are available today.
CONSISTENT FINISHED PRODUCT
As previously stated, hand coded websites use cascading style sheets to specify the look and feel of the pages. Because a single style sheet is attached to a number of web pages (often the entire site), style changes are consistent throughout the site.
This uniform site appearance provides a better user experience for site visitors and is useful in branding the site for the business it's representing.
PRECISE PAGE & PLACEMENT CONTROL
When a web page is created using a WYSIWYG interface, HTML (hypertext markup language) code is generated which allows the page to be displayed over the Internet as specified by the page creator. Unfortunately, however, the resulting page often doesn't look exactly as intended. There may be extra spacing or page elements may not line up the way the designer initially envisioned. In addition, the look and feel of the various pages throughout a site may not be consistent.
Hand coding a web page allows the designer to fine-tune the page layout and perfect the look and feel. The ability to manipulate the code not only leads to a more precise layout, it also produces a more professional-looking website.
HAND CODED SITES ARE NATURAL SEARCH ENGINE FAVORITES
Hand coding a website helps with search engine optimization (SEO) in several ways. First, the page code is typically very lean and more easily crawled by search engine spiders. Web pages that can be efficiently indexed by the spiders generally rank higher in the organic search results.
In addition, hand coding allows the web designer to more effectively optimize the site for specifically defined search engine terms, including unique page titles and image alt and title tags. This type of customization also leads to higher search engine positioning.
CLEAN AND LEAN PERFORMANCE
Hand coded web pages typically include far less code that those pages generated by WYSIWYG applications. Web pages that are hand coded usually only include structural elements (HTML), while styling parameters are stored in an external page (the style sheet) which is called by the web browser upon initialization.
Pages with less code have smaller file sizes and load far more quickly than the overloaded pages produced by many of the WYSIWYG programs.