mCommerce web development
facilitate mobile web payments and online purchase transactions

MOBILE COMMERCE

Mobile web commerce, a common practice in European and Asian regions for years, is now proliferating in the U.S.. The speed and innovation at which mCommerce is progressing is as remarkable as the increase in competition among mobile handset manufacturers and carriers.
MOBILE WARMING

Mobile Warming? Mobile Winning! Europeans and Japanese have been using their phones as an extension of their bank accounts, and making simple transactions, such as pointing their phone at a mCommerce engineered soda machine for a purchase debited directly to their bank account, as well as more sophisticated transactions that include the purchase of event tickets, products, services, and fully enabled bank transactions such as transferring funds and paying utility bills.
MOBILE COMMERCE TRANSACTION TYPES
The various industries and transactions that can benefit from improved commerce facilitation and the versatility of phone enabled transactions include the transportation, travel, and tourism bookings. Online shopping can be administered on the go, and payments for professional services and reservations are also perfect candidates for mCommerce.
MORE REASONS TO USE MCOMMERCE
Mobile commerce is also ideal for online investor, day trading, buying at selling at online auctions, payments for utility bills, preferred event seating, banking, and more. Mobile Brokerage is gaining in popularity as much as transportation based mCommerce.
MOBILE TRANSACTION VERSATILITY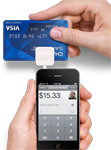 Squared.com, a progressive and innovative mCommerce company, is offering mCommerce capabilities to mobile users for any type of online transaction.
Upon submitting a very simple application form to Squared, you will receive a mobile phone adapter that enables you to "swipe" credit cards and automatically receive payment. This service is available to the public, and streamlined to exclude all of the inherent hassles and minimum usage fees of traditional Merchant Account providers.
Unlike most Merchant Accounts, Squared only charges a fee when a transaction is facilitated, rather than charging a monthly just for providing the service. The average cost of a Squared transaction is 2.5% plus a fifteen per payment fee.
SAN DIEGO MCOMMERCE WEBSITE SERVICES
Call us for any of your mCommerce and eCommerce needs, as well as mobile web design and development services. We'll get you mobilized! 619.504.0450