search engines
•

relevant directories
relevant & quality

directories
directory submissions & listings
Directories differ from search engines in that they are usually edited, updated, and managed by humans vs. search engines which are entirely controlled by robots and algorithms.
San Diego Web Design Studio recommends being very conservative when agreeing to a reciprocal link exchange with a directory...in fact we don't reciprocate links unless the directory is focused exclusively on the industry and topic we are promoting and listing.
niche & local listings
Directory submissions that are worth pursuing include "Best of the Web", Yahoo! Directory, DMOZ, as well as niche listings and local directories, when a business has a regional specific market.
We do not utilize nor endorse the use of automatic submission software or machinated directory listing requests.
submissions
inclusion & submission
features

:

Quality directory and search engine inclusions require:
choosing the most appropriate category for listing
writing an effective title for website listing
composing effectual website descriptions
author factual ad copy that is free of sales hype
san diego web design studio
over
ten years

of

web development

experience

If your company or organization needs reliable and efficient web consultation and project development services, give us a call today at 619.504.0450


We understand how confusing and overwhelming web design & marketing decisions can be even for technically oriented professionals - so we strive to keep things simple. Call us any day of the week, before or after you retain us. For your convenience, you can eMail us with any questions and receive a prompt response to your inquiry.
search engines
viral indexing
Once a site becomes indexed in Google or Yahoo! Search, it is typically crawled and acknowledged by the other major search engines as well. The best method for getting crawled and indexed by Google is to allow Google to find the site by following links pointing to your website from other sites.
high ranking potential
Search engines have the capacity to make or break a business, and therefore top placement on engines is extremely competitive. Achieving a top ranking on a major commercial search engine can eliminate a company's need to ever cold call for prospective clients again. With favorable search engine strategies, your business doesn't need to look for prospective customers, because the qualified customers are looking specifically for your services and products.
The graph below demonstrates which search engines carry the largest percentage of internet queries:
san diego
directory & search engine

optimization

San Diego Web Studio can help you establish and achieve your marketing and conversion goals online. View our web services rates & promotions .

For a straightforward approach to your search engine optimization and directory inclusion campaign, give us a call at 619.504.0450 . You can eMail us, too ... or submit a simple online inquiry for more information.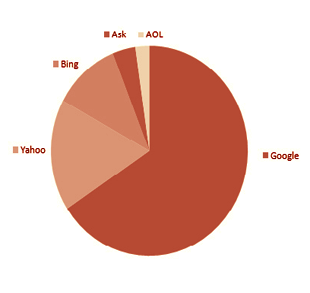 agree quality matters? contact us for a superior site