custom mobile application development
native apps big on small screen functionality

handheld apps for iphones & smartphones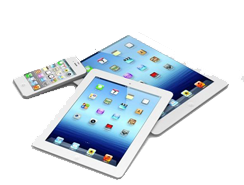 When looking to expand your mobile reach, custom mobile application development can serve as an essential tool for reaching and converting untapped target market share.
Mobile applications and utilities are also excellent, first rate branding tools for most businesses.
apps provide utility for mobility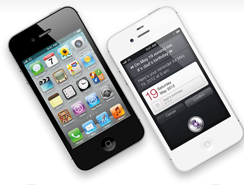 One main difference between a mobile website and a mobile application is that an app, once downloaded to the end user's mobile device, can operate independent of an internet connection. In other words, the mobile application becomes similar to software downloaded to one's desktop.
So for the sake of simplicity, we could say that applications for mobile are synonymous with software for desktops. A mobile web site provides information that is accessible via the internet. However, not every mobile user has constant, reliable access to the internet.
benefits of creating a popular mobile app
Some companies can sell their applications, in which case they can generate several revenue streams from one application. For one, there may be a profit generated by end users who purchase the app from the app store, or another mobile application retailer. Obviously, they'll need to first recoup their investment for the cost of development, and possibly a mix of aggressive of advertising and marketing campaigns. It's also well known that apple.com keeps 30% of the sale price. [By the way, apple.com is no longer the only source for iApplications] . Yay for Fair Trade. Too bad we can't yet celebrate the apple.com's openness to, ahem...open source. [Guilty! I own an iPad...they make fascinating gadgets, but too proprietary for comfort, IMHO]
Possibilities for further monetizing an application, if it's popular and appealing to a wide audience, are innumerable. You can sell advertising. You can market the app through resellers. You can develop a distributorship. You could also white label the app and lease or sell rights to colleagues in other geo-target, non-competing regions. Just use your entrepreneurial mind, and a hot app could translate into a hot source of cold cash! or hot cache?
your brand ideally positioned on mobile devices

Once an application has been adopted and proven useful to an end user, the continual value of your brand in the hands of your target market on a regular basis is invaluable. And if your application is habit forming and viral, such as an addicting game for example, the profits and associated benefits can be substantial to the publisher of the app.
A mobile web site provides information that is accessible via the internet. However, not every mobile user has constant, reliable access to the internet.
With a custom app, a user can access information both online and offline. In addition, you can provide functionality for the user that cannot be available on a mobile web site, such as calculations.
mobile applications with off-line functionality

An app can provide information that is downloaded to a phone's hard drive, so a user can access it at any time, with or without an internet connection. Custom mobile app development also lends itself to more branding - you are able to brand the app to your liking and to your business brand, which increases brand awareness as the user accesses your app.
mobile branding & marketing

Be progressive and tap into mobile app development. Providing valuable functionality related to your business is no longer something to do in the future...mobile is current, hot, and still a very unsaturated, unclaimed market. Provision of an app that is convenient and appealing to end users increases the likelihood they will access and use it regularly, rather than uninstall or delete. If end users adopt the app, your advertisement is literally in their pockets at all times, so giving them a reason to access it regularly continues to ingrain your brand into their brains. Custom mobile app development can be a crucial for serving affluent, tech savvy mobile web users, so call us when considering and planning your mobile marketing strategies. 619.504.0450. Be Picky...We Deliver!